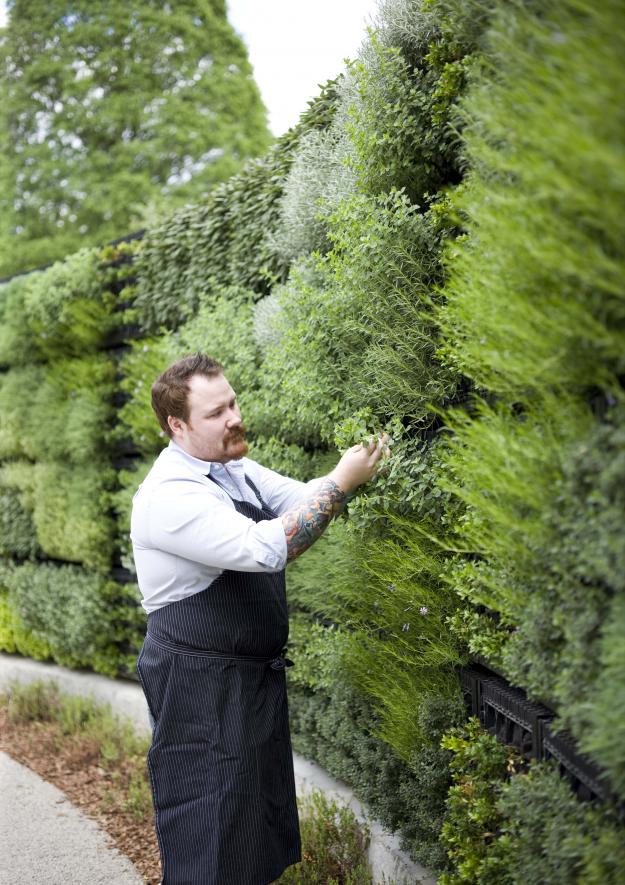 I just returned from a relatively lackluster AIA conference in Miami. It was as hot and humid as you would expect June to be in South Florida, and it gave a lot of architects an excuse for not going to the conference.  When I was leafing through the mail that had arrived while I was down there, I picked up Garden Design magazine, which in turn picked up my spirits.
There, in the first section of the magazine (they call it "fresh"), there was a complete article about the new Edible Garden section of the Atlanta Botanical Gardens, featuring a full-size image of the living wall.
The article featured Bravo Top Chef star Kevin Gillespie (left), a local Atlanta chef preparing food at the outdoor kitchen, and related why the ABG went for an edible wall in the first place. I wasn't aware until I read the article that the entire edible garden was built in the place of a former parking lot.
The walls appear to be growing in nicely, and are even being harvested for the cooking demonstrations held there. While not the only star of the show (check out the pictures to see all the different edible garden features), it makes for a spectacular backdrop to the edible garden section.